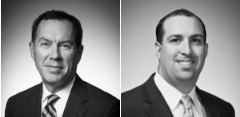 Henry Saunders & Thomas Forsha
Henry Saunders is a Lead Portfolio Manager for River Road's Dividend All-Cap Value portfolios. Prior to co-founding River Road in 2005, Henry was a portfolio manager at Commonwealth Trust Co. as well as previously working at Bridges Capital Management and PRIMCO Capital Management. He has also served as an adjunct professor of Finance and Economics at Bellarmine University.
Thomas Forsha is the co-Chief Investment Officer at River Road, as well as portfolio manager for the firms Dividend All-Cao Value portfolios. Prior to joining River Road in 2005, Thomas was an equity analyst and portfolio manager at ABN AMRO Asset Management USA< where he was responsible for the management of the North American equity allocation of the firms Global High Income Equity fund.