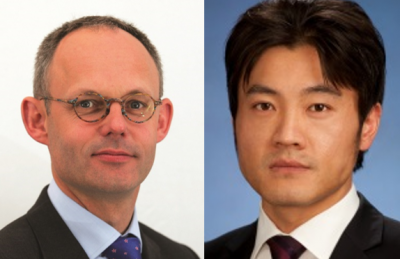 Iain Lindsay & Jonathan Xiong
Iain is the co-head of Global Portfolio Management within the Global Fixed Income team in Goldman Sachs Asset Management (GSAM). In this role, he is responsible for co-leading the global team of portfolio managers. Previously, Iain was a senior portfolio manager on the Global Fixed Income and Currency team. He joined Goldman Sachs in 2001 and was named managing director in. Prior to joining the firm, Iain worked at J.P. Morgan Investment Management as a portfolio manager, as well as head of the capital market strategy team at Bank of Montreal in London. Iain earned a BSc in Physics from Heriot-Watt University in 1985, a PhD in Physics from Imperial College in 1988 and an MBA from City University in 1992. He became a CFA charter-holder in 2001.
Jonathan is head of the Fixed Income Alternatives group and co-portfolio manager of the GS Global Opportunities Strategy within the Global Fixed Income team of Goldman Sachs Asset Management. Jonathan joined Goldman Sachs as a managing director in 2011.  Prior to joining the firm, Jonathan was a managing director and senior portfolio manager/global investment strategist on the Global Macro/Global Tactical Asset Allocation team of Mellon Capital Management with $20 billion in assets under management for over 11 years. From 1998 to 2000, he was an investment analyst with McMorgan & Company, where he focused on US equities and fixed income portfolios. Jonathan earned an MBA with honours from The University of Chicago and a BS in Finance from San Francisco State University. He is a designated CFA charterholder.