Ruffer Total Return
This is a multi-asset fund that will invest in a range of asset classes from traditional equities (UK and overseas), fixed income instruments, collective investment schemes and money market instruments.
Overview
The main aim of the fund is to protect investor's capital with performance driven by the strategic allocation and stock selection.  The overall asset allocation is determined by senior fund managers including Jonathan Ruffer and the research team.
The asset allocation is unconstrained across asset classes to achieve its objectives. However the portfolio will mainly invest in conventional assets such as equities, bonds, commodities and currencies. The portfolio will always maintain a balance between 'greed' and 'fear' investments where the blend of each will vary from time to time to reflect the risks and opportunities identified across global financial markets. The team are not wedded to specific research duties and follow a best ideas approach, allowing them the flexibility to be creative.
We like this fund for its unconstrained approach to investing and the managers' willingness to hold higher levels of safer assets when they feel the markets predicate this. Ruffer have built a reputation of being more defensive managers with the aim of trying to limit losses with a history of success in application of their approach since the firm's inception in 1994.
| Fund type: | Asset class: | Sector: |
| --- | --- | --- |
| OEIC | Mixed | Mixed Investment |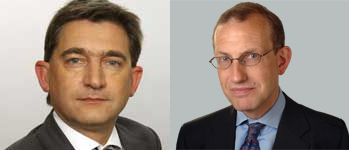 Steve Russell started as a research analyst at SLC Asset Management in 1987 where he became Head of Equities in charge of £5bn of equity funds. In 1999 he moved to HSBC Investment Bank as Head of UK and European Equity Strategy, before joining Ruffer in September 2003. He became a non-executive director of JPMorgan European Investment Trust in 2005 and is a named co-manager on other Ruffer funds.
David Ballance was previously working as International Equities Head at Rothschild Private Management, prior to which he was European Equities Head at Rothschild Asset Management. He graduated from Oxford and worked for Allied Dunbar Asset Management as Senior Investment Manager before moving to Threadneedle Investment Managers Ltd as Head of European Equities. He Joined Ruffer in 2006 and is named co-manager of other Ruffer Funds.

Ruffer is a privately owned investment management firm founded in 1994. The business invests across a broad range of asset classes and operates without the constraints of index benchmarks that to which institutional investors are typically tied. They have always followed the same investment philosophy since inception and have built up a large base of clients that includes pension funds, charities, family offices, corporations, investment companies and insurance companies. As at 31 January 2018, Ruffer hold £22.7 billion of assets under management.