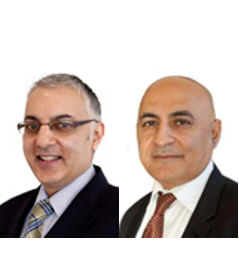 Sam Mahtani & Jeff Chowdhry
Sam Mahtani has over 20 years of experience managing emerging markets mandates, and joined F&C in 1993 to launch their India fund, becoming co-manager a year later and lead manager in 1996. Prior to F&C, he worked for RBS in their corporate trusts division as a senior bank officer. Sam is an Associate of the Institute of Financial Services and a member of the CFA Society of the UK.
Jeff Chowdhry has over 30 years' investment experience, focusing on emerging markets since 1992. Prior to joining F&C in 1994, he held portfolio management positions at Royal Insurance PLC and BZW Investement. Jeff holds an MBA from Kingston Business School and a BSc in Economics from Brunel University.