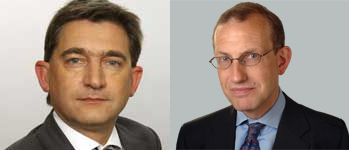 Steve Russell and David Ballance
Steve Russell started as a research analyst at SLC Asset Management in 1987 where he became Head of Equities in charge of £5bn of equity funds. In 1999 he moved to HSBC Investment Bank as Head of UK and European Equity Strategy, before joining Ruffer in September 2003. He became a non-executive director of JPMorgan European Investment Trust in 2005 and is a named co-manager on other Ruffer funds.
David Ballance was previously working as International Equities Head at Rothschild Private Management, prior to which he was European Equities Head at Rothschild Asset Management. He graduated from Oxford and worked for Allied Dunbar Asset Management as Senior Investment Manager before moving to Threadneedle Investment Managers Ltd as Head of European Equities. He Joined Ruffer in 2006 and is named co-manager of other Ruffer Funds.