A Canadian MP has apologised to colleagues after appearing completely naked during a virtual meeting of the Canadian House of Commons. Liberal MP William Amos issued a statement following the incident in which he said his "video was accidentally turned on as I was changing into my work clothes after going for a jog". I feel fortunate that amongst my Zoom blunders over the last year, nudity isn't among them!
President Biden's naked ambition to slash greenhouse gas emissions came to life last week as the new US president spoke at a two-day climate summit to mark Earth Day. Speaking alongside 40 other world leaders including big emitters like China, India and Russia, President Biden set the target of a 50% cut in US emissions versus 2005 levels by 2030. The US's return to the world stage on issues such as climate change has marked an inflection point in US policy and is in stark contrast to Mr Biden's predecessor.
In addition to the US, the UK, Japan, Canada and Brazil have all announced new environmental goals which aim to advance a move to net-zero emissions. The summit wasn't all good news, however. Though China, the world's largest greenhouse gas emitter, has committed to achieve net-zero emissions by 2060, President Xi is not expecting China's emissions to peak before 2030 and is only expected to reduce its use of coal towards the end of this decade. For longer-term readers, you might recognise the chart below which highlights the sheer scale of the challenge ahead.
Figure 1. From current levels, the US and the European Union are set to reach net-zero emissions by the middle of the century while the world's largest emitter, China, is expected to reach net-zero by 2060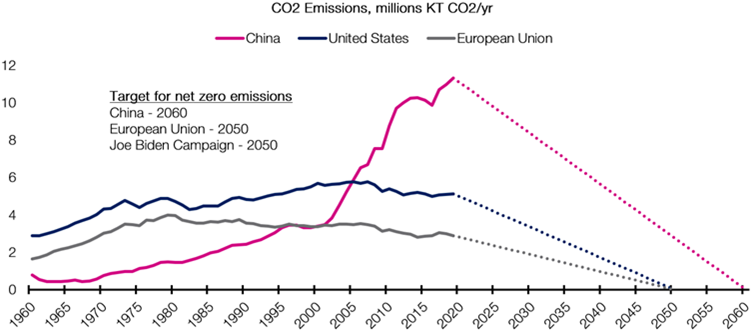 Source: World Bank, European Commission, EQ Investors
While government policy will undoubtedly shape the way in which economies decarbonise, the sheer scale and depth of capital required will mean that corporates will be very much on the front line. Decarbonisation is already causing a divide in how corporate management teams are reacting to the climate challenge. This is particularly prevalent in the Energy sector. While companies like Orsted and NextEra Energy are embracing the transition to clean energy by making vast investments in renewable assets, some of the larger oil and gas companies are yet to take the issue seriously. The most recent example of this is ExxonMobil which is facing a shareholder war and a boardroom battle as climate change risks rise on investor's radars.
One policy we are increasingly watching (and one that is being touted by the International Monetary Fund) is global pricing, a policy that would unify the direction of global emissions and help drive down emissions of the worst polluters through a financial incentive. Simply put, carbon pricing is a way for corporates to be taxed on their emissions. While there are already policy frameworks in place in the European Union, Australia, and some US states, they are fragmented and lack commonality. Whether we see a unified policy or not, one thing if for certain: the US's return to the world stage will surely place pressure on climate laggards to take action.
STAT OF THE WEEK: 11% – the proportion of global primary energy that came from renewable technologies (Our World in Data).
Data correct as at: 24/04/2021
Contact us
Have a question about investing with EQ? Please email enquiries@eqinvestors.co.uk or call 020 7488 7171, we're always happy to hear from you.