The announcement that NS&I (National Savings & Investment) was cutting the rate on its one-year Guaranteed Growth Bond from 1.1% to 0.1% has further penalised savers. As a result, if you have £1,000 saved in the account, you'll receive 10p gross interest after a year.
We've received several questions on the best use of excess cash reserves from clients wary about the twin pressures of inflation and ultra-low interest rates.
Cash and bonds
Before we tackle this, it is worthwhile looking at the reasons why NS&I have reduced their rates. First, let's look at the returns that UK government bonds currently on offer. Looking at our screens this morning, the annual yield on a two-year UK government bond is -0.05% and the annual yield on a 10 year bond is 0.14%. This means that an investor buying a two years bond will get back £999 on a £1000 investment today (this doesn't even consider trading & custody fees) while an investment into a ten-year bond would return £1014 on a £1000 investment if held to maturity.
Looking at this a different way, if the Treasury can borrow at this low rate for ten years then it is no surprise that NS&I, which is treasury backed, has cut back its interest rates. Why should it pay a much higher level of interest to its savers then the Treasury could borrow from the bond market?
The actions from the global central banks and the fiscal programmes that governments initiated after the onset of the coronavirus pandemic has unintentionally led to interest rates and bond yields rooted at zero for the foreseeable future. The only way this situation changes is if central banks begin to raise interest rates again. The US Federal Reserve, seen as the most important, indicated this month that interest rates will remain near zero at least through 2023.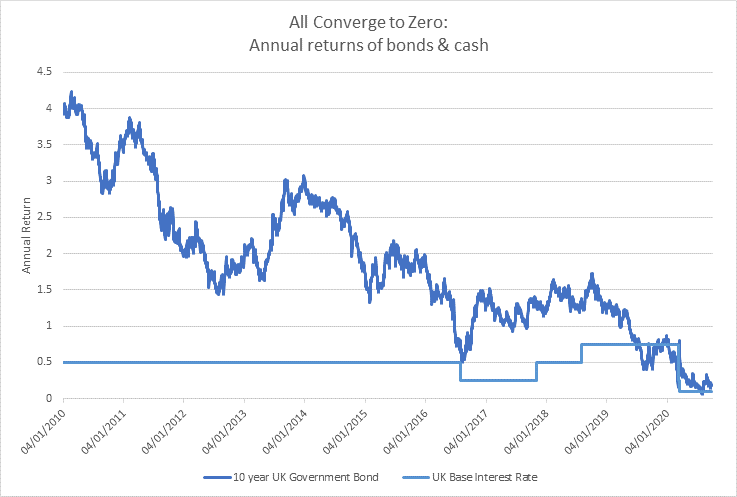 So what are the best options?
With bonds and cash returning zero for investors it is natural that we will need to look at the next biggest asset class – equities. We are not oblivious to the arguments around valuation in equities but looking at the above chart it should be no surprise that equities have performed very well over the last six months.
If we use Microsoft as an example, even after the strong returns of the tech market, the annual dividend yield is 1.0%. If Microsoft returned 0% over the next 10 years in capital terms, a 1% dividend return is higher than the returns on offer from cash on bonds and it is at least positive. If we then consider that Microsoft has consistently increased its dividend by 15% per annum over the last ten years, then this adds a further compelling part to the argument.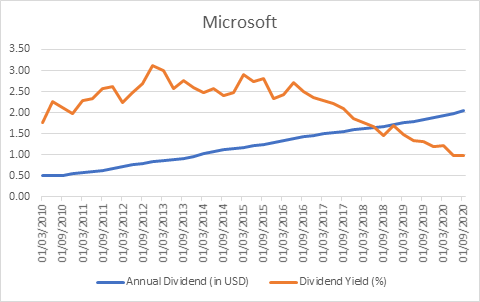 This leaves us with the situation that an investor seeking a return will need to allocate a part of their portfolios to equities to achieve a positive return in the long term. For excess cash reserves, a diversified global portfolio is the only game in town.
Investing with EQ
Have a question about investing with EQ? Please email enquiries@eqinvestors.co.uk or call 020 7488 7171, we're always happy to hear from you.