Free Guide to Saving Inheritance Tax
This guide explains how planning ahead can provide for – and in most cases reduce – the amount of tax that is ultimately due on your estate.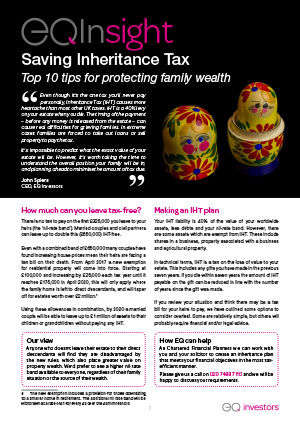 Contents
Our top 10 tips for protecting family wealth including:
How much can you leave tax-free?
Making an IHT plan
Writing a will
Options for your pension
Gifts and exemptions
Trusts
Buying company shares
Donating to charity
Taking out insurance
Equity release
Please note: This guide provides general information about inheritance tax planning. It does not constitute a personal recommendation in any way whatsoever. For tax planning advice that relates to your own personal circumstances, please calls us on 020 7488 7110 to speak to a qualified financial adviser.