We've written before about the fact that we're all living longer than previous generations. But when we talk about ageing, we aren't really just talking about how old we are.
In July 2019 the Pension Policy Institute pulled together some of the latest academic research on ageing into a paper called Living through later life. As well as confirming the commonly held view that more affluent people tend to live longer, there are some useful insights into ageing. Time takes its toll on our bodies and minds at different rates. Often, we start off fully independent, but we have a decline in health and eventually are dependent on the help of others.
What does this have to do with having a great retirement? Just because we are living longer doesn't mean that we are in good health throughout. Most people only retire once and therefore only have opportunity to make decisions once.
So, what does this research suggest you should do to have a great retirement?
1. Be active
People who are living independently are more likely to be physically active than those who are dependent on others. It's not just physical well-being that this promotes, but mental health and emotional well-being. Some people are active because that's what their lifestyle has always been like. However, others engaged to be part of a group or to provide a sense of purpose.
Setting goals – and monitoring behaviour in relation to these goals, such as wearing a fitness monitor – has been shown to increase the amount of physical activity done by older people. In turn this can maintain physical health and lead to a better retirement experience.
2. It's OK to keep working
Half of those who reached their State Pension Age in 2018 told researchers they were considering continuing to work (not necessarily with their current employer). Only 8% felt they couldn't afford to retire. It's interesting to see keeping mind and body healthy as a key reason. Some research has linked keeping your mind active with a reduced likelihood of dementia.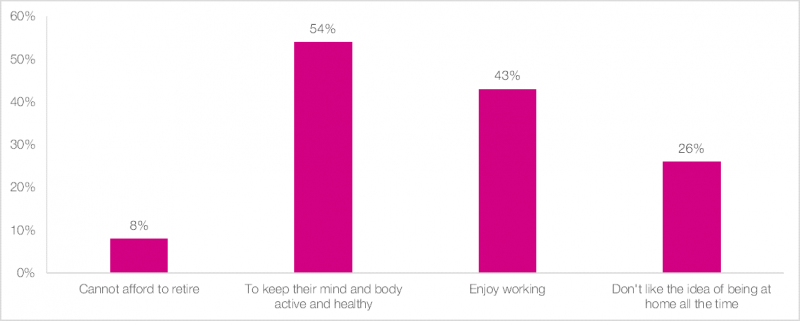 Many people find a large part of their personal identity in their work. It's easily overlooked by those entering retirement and can lead to a sense of purposelessness. Some people find that a gradual retirement, consultancy, and volunteering helps.
3. Make the most of your health, but don't go wild
If we don't have enough money, it will limit what we can do. However, when we end up dependent on others, our age and health is more significant. We might feel that we can afford to do something, but time has taken its toll and it's our bodies that are the limiting factor.
Perhaps the lesson is not to let time run away with you. Make the most of your health and energy while you can, but don't go too wild.#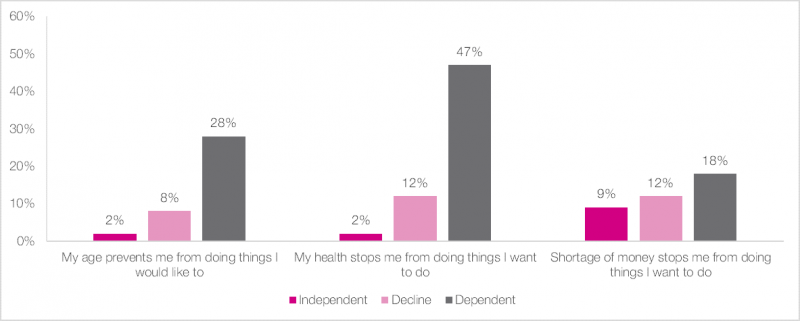 4. Be prepared to need help managing money
Navigating the later life care world is complex, but as we live longer it is likely to be a growing reality. 12% of over 80s live in residential and nursing homes. A far larger part of the elder population is dependent on some type of support. 82% of these need help managing their money.
It's one thing to drop a cheque in to the bank, but anything more than this needs to be formalised. A Lasting Power of Attorney is designed to delegate specific decision-making responsibilities about your money, health, or both, to people you trust. It is important to know that you can only do this whilst you have mental capacity.
What should I do now?
On a practical level making sure you have an active lifestyle and setting up a Lasting Power of Attorney are easy wins. However, working out what you want your retirement to look like requires thought and discussion (especially with those you will be sharing retirement with).
Changing course can be hard especially with the need to make sure your money lasts for the rest of your life. Over the years our clients have found that cash flow modelling helps to make this type of decision and ensure that they remain on track for a great retirement.
If you would like help doing this then get in touch with our team of advisers.